Jesus said, "Let the little children come to me..."
We're dedicated to partnering with parents to lead children to become fully devoted followers of Christ. Through age-specific lessons, activities, and small groups, children, ages birth-5th grade, learn biblical truths and real-life lessons in our programs that they can apply to their lives every week .
Every Sunday morning, we host engaging lessons designed to meet your child where they are. Through crafts, games, songs, and other teachings, we will guide your child through Biblical lessons.
We love to have our children join us in the worship center with the adults for the first part of our Sunday morning service. Right before the sermon begins, the children will be dismissed to our "Praise Kids" where they will do lots of fun activities and learn all about Jesus!
Every Wednesday night throughout the school year, we host "Kingdom Kids," our ministry created just for children, Birth-5th grade. Your child will experience a fun night of engaging and relevant Bible study.

*A meal is provided each Wednesday night at 5:30 PM in the FLC
Children's Ministry Events
Check back here for info on all of our children's ministry events!
Wednesday Night Life is our program designed specifically for kids K-5th Grade! Each week, your child will get to be a part of exciting games, interactive and engaging Bible studies, and develop deep friendships. WNL begins at 5:30 PM each Wednesday with a meal in our Family Life Center, and afterwards, your child will go across the street to the 2nd floor of our main building. If you would like your child to attend, please click this link to sign up! Click
Here
We have a fantastic nursery team that is excited to meet, teach, and cherish your little ones. Along with our experienced staff, we have student ministry helpers who are eager to assist each week. During this time of COVID, and always, we are taking every precaution to keep everyone safe and healthy. We are checking temperatures upon arrival for all workers and children and washing our hands often. In addition to that, our workers are wearing masks at all times in the nursery and performing thorough cleanings. We look forward to meeting you and your precious bundle of joy!
Debra Wion has served First Baptist Church since November 2016, but most recently took over as children's minister in 2018. Her job duties include overseeing the direction of our children's ministry and the spiritual growth and development of the children at FBC. She has a Bachelor of Science in Business Management from Sam Houston State University (Eat 'em up Kats)! Debra has been married to her beautifully bearded husband, Jeremy, since 2006, and together they have two children, Alissa and Lydia. In her spare time, she enjoys reading and spending time with family.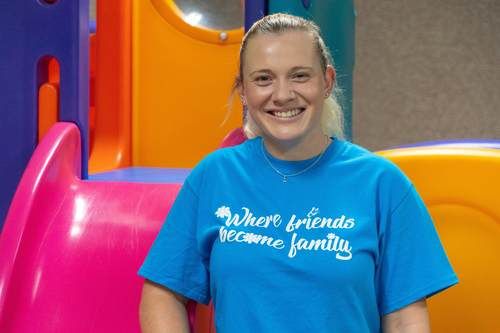 I am a Junior at SHSU pursuing a Criminal Justice degree and hope to work in the FBI one day. I have been a member of a Baptist Church since junior high. I have volunteered with the infant nursery in my church. It was during a mission trip that I decided to get baptized. I have five younger siblings and have been helping care for children my entire childhood. I have been a swim coach for five years and teach swim lessons to children of all ages. I have also been babysitting since I was 12 years old. My hobbies include reading, swimming, and painting.
I am a senior at SHSU pursuing a degree in Early Education in hopes of eventually being on an administration team. I grew up in a Christian household where I accepted Jesus as my Lord and Savior at a young age. During high school, I volunteered at many events through my church, and there grew my relationship with Christ to a deeper level. Throughout my high school and college career, I have worked with children through dance instruction, babysitting, and teaching in a classroom. My hobbies include cooking, game nights, and spending time with my family!